At Heartland Goldens and Mini Goldendoodles (HGMG) we strongly believe in giving back to the dog-community. We proud of our "Heartland Goldens and Mini Goldendoodles Veterinarian Scholarship".
Heartland Goldens and Mini Goldendoodles (HGMG) will award one $500 scholarship. To be eligible, students must be a graduating high school senior in the class of 2022, who demonstrates excellence in the classroom, positive history in the care of animals, and who are pursuing a four-year degree in animal nutrition, animal science, animal breeding and genetics, biological sciences or pre-vet sciences, preferences to applicants planning a career in veterinary medicine.
This scholarship is made available as a result of a gift from Heartland Goldens and Mini Goldendoodles (HGMG).
All Applications are accepted from March 1 until May 30, 2022, midnight, EST.
Instructions for applying:
1. Download this application and type in your responses. Save the file as HGMG.Last Name.First Name.doc. Email to HGMGScholarship@gmail.com If you have problems please e-mail HGMG.
Applicants will receive a confirmation email after June 1, 2022
about their submission of the application form.
Heartland Goldens and Mini Goldendoodles (HGMG)
4112 S Native Court
Yorktown, IN 47396
Phone: 765-717-4867
Email: HGMGScholarship@gmail.com



Scholarship Amount:
The scholarship is a one-time $500 award paid directly to the recipients student account at the university of attendance. Scholarship will be delivered AFTER the recipient successful completion of their first semester of classes at the university or college.


Rules and Regulations:
The scholarship recipient will be awarded the scholarship approximately 30-60 days after
the conclusion of the first semester of college. By participating in this scholarship application you are giving Heartland Goldens and Mini Goldendoodles (HGMG) permission to contact you via e-mail or phone to notify you of any errors in your entry or if your being chosen as the recipient of the scholarship. In addition you are giving us permission to use your name, high school, college and assay on this for for any informational or promotional purposes, with no compensation or payment to you. The scholarship award winner is solely responsible for any state and/or federal income taxes that arise as a result of the awarding of the scholarship.

Awarding the Scholarship:
The scholarship will be awarded by a panel of judges who will determine the winner based on their discretion
2022
With great pride and excitement, we would like to announce the 2022 Heartland Goldens and Mini Goldendoodles Veterinarian Scholarship award winner. She is Jolie Klimczak from South Central Jr/Sr High School in Union Mills, Indiana. She is attending Purdue University in her pursuit to become a veterinarian. Congratulations!!!
We had many well qualified and deserving applicants, 52 in fact. Thank you to everyone that applied, to everyone that helped spread the word on our scholarship, and to our selections community.
With amazing young people in this world like Jolie that have achieved and accomplished so much in such a short time, the future is very bright!!!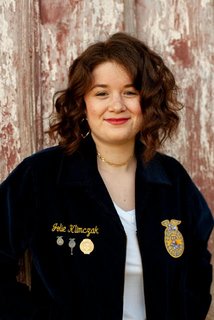 2021
We are very pleased to announce the recipient of the 2021 Heartland Goldens and Mini Goldendoodles Veterinarian Scholarship is Victoria Bonavita. She is a 2020 graduate of North Babylon High School in Paola High School in North Babylon, New York. Victoria is attending SUNY Canton State University of New York. We are very proud of her accomplishments in High School and look forward to the day when she achieves her goal of becoming a veterinarian.