About us

We are a family of four with two grown boys, a lovely daughter in law, two precious granddaughter and one adorable grandson.  I am retired Air Force which both our children grow up while I was in the Air Force.  We live on 10 acres in the beautiful Midwest "Crossroads of America" Yorktown, Indiana. We have a ½ acre pond which helps provide plenty of exercise and a great spot to cool off on the hot summer days.  Golden Retrievers have been a part of our family since 1988, within that time we have been blessed to have had some wonderful experiences all over this wonderful country with our Goldens.  Experiences as simple and sweet as laying on the floor for hours together with our children playing, to the intensity of watching our AKC Champion male, Ch. Tuxedo's Top Gun in a Sunset, finish his Championship in the very competitive Southwest United States show circuit.
Heartland Goldens and Mini Goldendoodles was created in 2012.  We have raised, trained, competed Golden Retrievers starting in 1988.  We have chatted with, been in seminars with, trained with, competed with (which if you ever get a chance to go to a Golden Retriever Nationals it is breath taking to watch the best Goldens in this country compete outdoors), purchased puppies from some wonderful dog enthusiasm through the years.  All we can say is Thank You to all of you that have helped us increase our knowledge, which in-turn helps us produce some of the best Mini Goldendoodles and Golden Retriever puppies being offered anywhere.    

Heartland Goldens and Mini Goldendoodles was so honorably asked by Alan Kenworthy to be a contributor of tips, advice, photos, and opinions when he set off to write his book Goldendoodles.  The Owners Guide from Puppy to Old Age.  This was all possible because of the many mentors and role models that helped us through the years.  
Click here for link to the book Goldendoodles by Alan Kenworthy
Caring for our dogs is my full time job, we take great pride in making sure our dogs and puppies are raised in the best possible environment for both their physical and  mental development.  To do this, to the professional level we expect out of ourselves takes a great deal of time, which is what we do.  What a great feeling to see the fruits of our labor, when a family selects their puppy and the warm happiness of a loving happy puppy brings to the family.  We are bless to be a part of so much happiness!  
In the past, I have been fortunate to enjoy some success in dogs shows, which has contributed to my emphasis on the importance of pedigree and genetics. My wife and I pride ourselves on having the most beautiful and healthy puppies.  We also know sometimes tomorrow will bring you things you never imagined you would be doing today, like participating in a competitive frisbee catching league with your new puppy or taking your puppy to a nursing home for a visit.  Whatever new adventures your puppy takes you , we want to make sure they are genetically sound.  
We have taken great pride in selecting only dogs that come from very structurally sound pedigree and breeding programs. That is one that we thinks separates out from other breeders, we feel when it comes to generation after generation of health and proper structurally sound bodies and great personalities our dogs are right  up at the top of anyone's list.   Each and everyday we want to raise the best Mini Goldendoodles or Golden Retrievers anyone can find, we strive to be the best breeder of Mini Goldendoodles and Golden Retrievers.  Are moms and dads are AKC (American Kennel Club) registered.   We are extremely pleased with both our American bred Golden Retrievers and our English Golden Retrievers. Our English bred (European) Golden Retrievers (White Goldens) have tremendous bloodlines and titles from all over the world Sweden, United Kingdom, Hungary, Finland, Spain, France, and the Netherlands, just to name a few. One very important fact about our English Goldens is they have 100% pure imported bloodlines behind them, which really shows in their physical structure and coat.  Our selective breeding standards results in some of the nicest pure English Goldens and Teddy Bear Goldensdoodles found anywhere. We raise F1 Mini Goldendoodles, F1B Mini Goldendoodles and Golden Retriever puppies.  We take raising dogs very seriously we try our best to make sure every puppy is the best puppy it can possible be and we know it is an honor when a potential customer selects us.  The color ranges of our F1 Mini Goldendoodles range from white mini goldendoodles, golden mini goldendoodles, apricot mini goldendoodles, tan mini goldendoodles, brown mini goldendoodles, to red mini goldendoodles which we try to have a variety of those different colors.  Let us try to get the perfect puppy for you.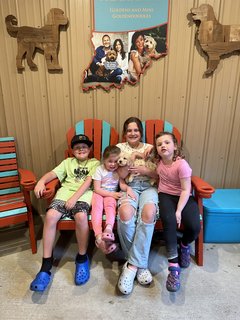 Our four grandkids with their new puppy (Tatar out of Snow White and Luca, March 23, 2023).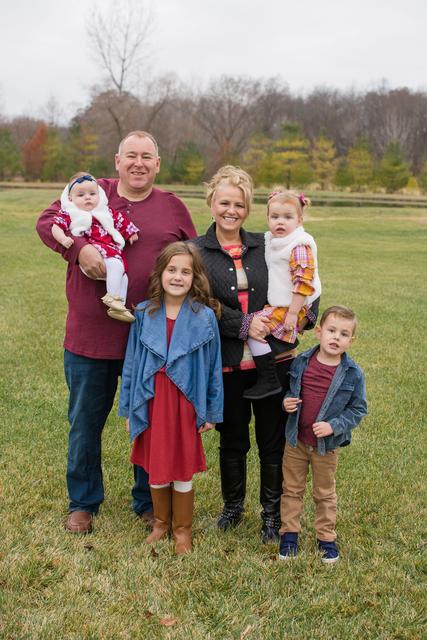 My wife, Kelli and I with our grandchildren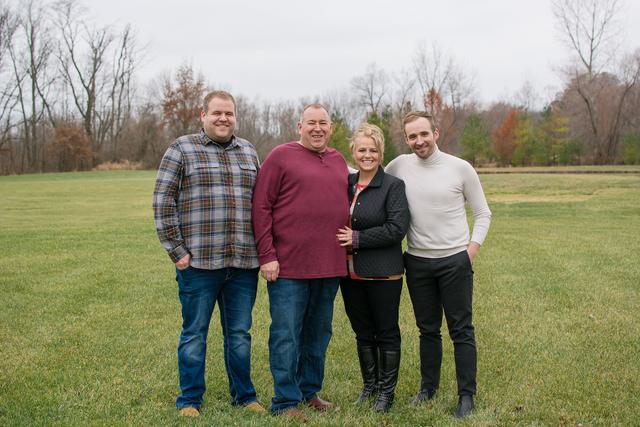 The Hainz family, Lake (son), myself, Kelli (wife), and Drew (son).
Bart Hainz
4112 S Native Court
Yorktown, Indiana 47396
USA